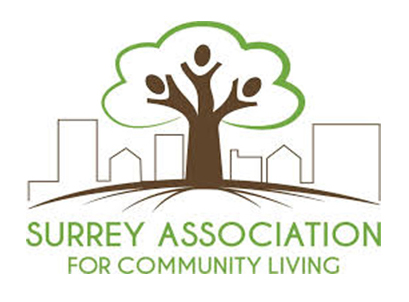 SACL RESPONSE UPDATES TO THE CORONAVIRUS (COVID-19) SITUATION
Who We Are:
Inclusion . Dignity . Respect
The Surrey Association for Community Living is a non-profit organization that provides programs and support services for people with developmental disabilities and their families. We have provided services in the community for over 60 years and have established close partnerships within the Surrey community, striving to make our community more inclusive.
Our Mission
Our mission is to provide services and support for individuals with special needs and their families and advocates on their behalf. Through committed leadership and guidance we create an inclusive, safe, caring community that values dignity and choices.
Our Vision
Inclusive communities where equal opportunity and choice exist for all.
Our Mandate
Through the creation and implementation of quality programs and services we build a community that values all people.
Job Postings
Surrey Association offers many employment opportunities to work to provide support to children, youth and adults with developmental disabilities. We offer various positions so you can find the one that suits your skills.
Community Support Worker – Day Programs – Casual
Get to Know Us
 Our staff Team and Board of Directors is proud of the work we do and proud to be part of the community of Surrey/Cloverdale since 1958
SACL has been in the Community of Cloverdale since 1958. We are involved with the of Pacific Community Church, Cloverdale BIA, Cloverdale Chamber of Commerce, and the City of Surrey partnership for 30 years
Address
17687 56A Ave
Surrey BC V3S 1G4
Submit a Compliment, Feedback or Concern
Your compliment, feedback or concern will be directed in confidence to the Quality Assurance Coordinator and the Executive Director, Coreen Windbiel